Madou Monogatari (魔導物語) is a series of first-person dungeon crawler RPGs. The series was created by Compile and it is currently owned by D4 Enterprise. It was well-known to be the basis of Puyo Puyo, as the characters were used in the spinoff game.
List of games
Madou Monogatari 123 (1990)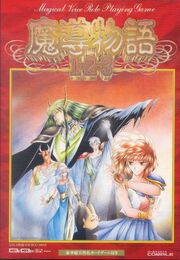 The first game in the series, Madou Monogatari I depicts a six-year-old Arle Nadja passing a test by scaling a large tower. In Madou Monogatari II, Arle, now 16, encounters Schezo Wegey, and also battles Satan, and in the end, she meets Carbuncle. In Madou Monogatari III, Arle encounters Rulue, who became hostile due to her suspicion that Satan is in love with Arle. Later in the end, Rulue makes amends with Arle, and goes to the same magic school as her.
Madou Monogatari: ARS (1993)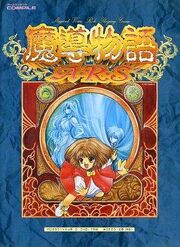 The second game in the series, it is a prequel to 123 (The ARS standing for Arle, Rulue and Schezo). It depicts how Arle obtained her magic powers, how Rulue fell in love with Satan and how Schezo became a Dark Wizard.
Madou Monogatari: Michikusa Ibun (1994)
Released in the DiscStation series, Michikusa Ibun tells how Arle uncovers the mysteries of Owanimo, the spell that powers Puyo Puyo matches. This game is the debut appearance of Kikimora.
Madou Monogatari: Hanamaru Dai Youchienji (1996)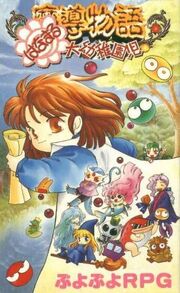 The game is a retelling of the original Madou Monogatari game, but mainly focuses on Arle when she was five years old.
Madou Monogatari: Final Exam
Arle has to traverse a dangerous tower as a final exam. In the game, she meets Lilith, the deceased wife of Satan (not explicitly named) and an apparent reincarnation from Arle.
Madou Monogatari: Tower of the Magician
The game has Schezo as the main protagonist, and in the game, he has to rescue Wish, who is Witch's grandmother.
Madou Monogatari (Saturn) (1998)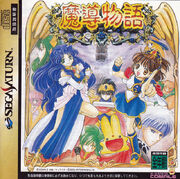 Released exclusively on the Sega Saturn, the game is not based on the original Madou Monogatari, but rather with a new story plot. The game also features Lagnus, who had previously appeared in Puyo Puyo SUN.
In the game, mysterious entities known as Yogs and Yoggus invade Arle's world, leaving seeds and creating fumes that brainwash anyone who inhales it for a long time, effectively turning the universe into disorder. Arle and Rulue need to work together with their allies to save their world from the Yogs and Yogguses.